Cross Sells / Cross Sales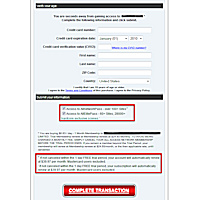 A cross sale is when you buy a membership at site "A" and you are given the opportunity to sign up for a membership at site "B", sometimes at a discounted price in one transaction.
Cross sales themselves are not necessarily a bad thing. What is bad is when a company has pre-checked the cross sale option and you are not aware of it. So if you see a cross sale warning in our reviews, make sure you look at the bottom of the page below the payment confirmation button or read the fine print so that you are not charged for something you did not want in the first place!
Click the image on the left to see an example of a rather nasty cross sale and pay special attention to the area surrounded by a floating red box around (* note we refused to review this site because of these shady practices). Those check boxes are pre-checked, so an unwary user expecting to pay $24.93 for a 1 month membership subscription would actually get billed an additional $79.94 for two unseen and completely separate sites for a whopping total of $104.89!